Back Pain and Spinal Decompression
Your spine is the hub for your nervous system.  Keeping it in alignment not only positively impacts your back and neck, but nearly every other part of your body as well. Spinal decompression is an extension of chiropractic care. Using a special table, the spine is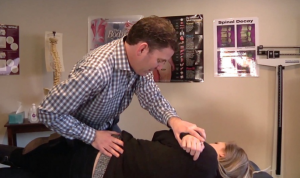 gently pulled and stretched.  As this occurs, pressure within the spine is relieved, allowing impacted discs to regain their shape and fill with healing nutrients and oxygen.
Spinal Decompression has been proven effective in relieving the pain associated with bulging and herniated discs, degenerative disc disease, sciatica, and even relapse or failed back surgery. Since its release, clinical studies have revealed an amazing success rate in treating lumbar disc related problems with Spinal Decompression.
Contact our office to schedule an initial consultation with Dr. Berman or Dr. Conner to determine if you are a candidate for care with Spinal Decompression.