About Dr. Barney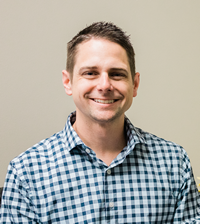 Dr. Joshua Barney, DC is a chiropractor located in the Clayton area of St. Louis, Missouri. He specializes in treating back and neck pain, headaches, sports injuries, and personal injury due to motor vehicle collision.
Dr. Barney received a Doctor of Chiropractic degree from Logan University in St. Louis, Missouri. He also received a Bachelor of Science degree in Kinesiology from Kansas State University, and an additional Bachelor of Science degree in Life Sciences from Logan University. Prior to his time with Berman Chiropractic, Dr. Barney worked in a large practice in Springfield, Missouri. He has helped thousands of people from Missouri and throughout the world. Dr. Barney has treated professional, collegiate, and other athletes through chiropractic and soft tissue care. In addition, he had the opportunity to provide care to those in need at the Community Health in Partnership Clinic, St. Patrick's Center, and also the Adult Rehabilitation Center in St. Louis. Dr. Barney lives in the St. Louis area with his wife, Christine. Techniques: Reinert-Specific Diversified Adjusting, Sports Injuries, Trained in Active Release Technique (ART) of the Spine (2014) and Lower Extremity (2015), Graston Technique M1 Certified, Thompson Technique, Cox Flexion/Distraction Technique, Myofascial Release, Instrument-Assisted Soft Tissue Mobilization (IASTM), Basic Technique, Rehabilitation, Nutrition, and Instrument-Assisted Adjusting. Dr Barney also provides community education with a focus on corporate wellness.
Contact Berman Chiropractic to Schedule an Appointment With Dr. Barney.